2016 CanTRA Awards
The 2016 CanTRA Award winners have been selected.
We're honored to present the Outstanding Volunteer of the Year, Outstanding Instructor of the Year, Outstanding Administrator of the Year and Therapy Horse of the Year.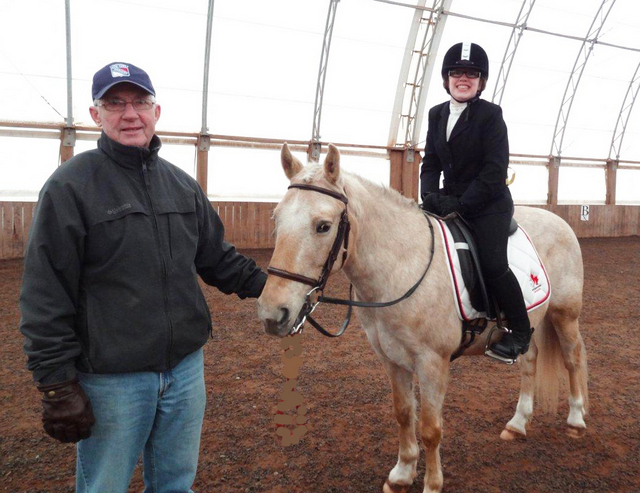 Rhonda Davies Award: Outstanding Volunteer
Sponsor: John and Donna Davies
Recipient: Butch McGee - The Joyriders Therapeutic Riding Association, Hunter River, PEI
Butch has accumulated over 500 volunteer hours as a side-walker with The Joyriders, not counting the time he has committed as a member of the Board of Directors and helping with our special events.
Hannah, a rider with whom Butch has a grandfatherly working relationship: Butch is not just a side walker...He is so much more. Butch is the type of guy that doesn't like a lot of fuss made over him. He just wants to come to the barn and do his job and get the work done. He is a true gentleman who loves horses and who shows the most respect for the animals involved in our program. Butch is an advocate for our program in that he helps out with fundraising, community promotion, and raising the expectations of anyone around him. He has a quiet disposition that everyone respects.
Photo: The Joyriders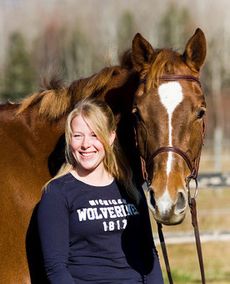 Andrea Gillies Award: Outstanding Instructor
Sponsor: Gay Wood
Recipient: Alissa Cue - Free Spirit Therapeutic Riding Association, Aylesford, NS
Alissa is always a positive and encouraging voice that lets her students know that no matter what their personal abilities may be that they are amazing. She celebrates every little milestone and accomplishment like it is simply the greatest thing she has ever seen. Alissa has the ability to make people, especially young people, believe in themselves, and they work that much harder as a result.
Shelley, parent of a FSTRA rider: Sometimes it's hard as a parent with a uniquely-abled child to let someone else take care of them or do activities with them the way you see best. Alissa makes everyone feel welcome and the participants of FSTRA program are always excited to see her and the horses. Alissa's true gift is that she has empathy which I think is her biggest asset to the FSTRA program.
Photo: Danique Rowsell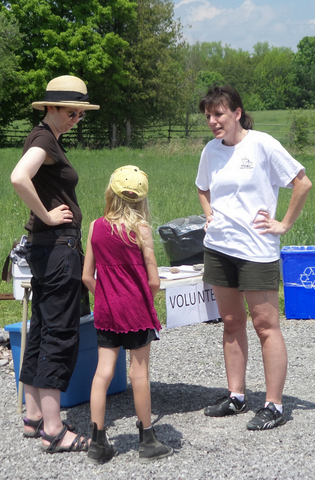 Jetty Chapman Award: Outstanding Administrator
Sponsor: Christine and Oren Birch
Recipient: Michelle Bozec - PARD Therapeutic Riding, Peterborough, ON
Michelle has been a volunteer with PARD for 14 years, initially assisting with the lesson program, eventually becoming a board member as well and taking on the role on the Board of Directors as our Volunteer Coordinator. Michelle's background in human resources is a huge asset to PARD as she spend many volunteer hours working hard to keep PARD up to date on the Disabilities Act, our volunteers' files up to date...thus ensuring our program continues to operate on a professional level.
Even though Michelle is not "horse" person, she keeps our two yearly horse shows organized and running efficiently. These two horse shows raise significant funds which are used towards operating costs of PARD...Being one of the longest volunteers of the Board of Directors, Michelle is a wealth of knowledge on what the program has been in the past, enabling us to move forward and improve each year.
Photo: PARD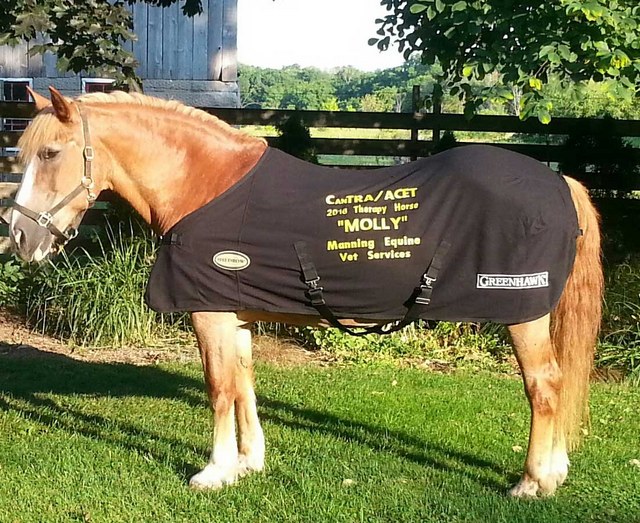 CanTRA Therapy Horse
Sponsor: Manning Equine Vet Services
Recipitient: Molly - SARI Therapeutic Riding, London, ON
Molly has loyally served the SARI program for eight years with great predictability and reliabilty. Her size and temperament are the "classic" traits that all therapeutic riding centres value most in their service animals. Molly is a babysitter, she keeps her riders safe. From unbalanced riders to loud riders to squirmy riders, you know she'll keep everyone safe. Her slow and steady gait puts riders and parents at ease, as they can see her gentle giant nature.
Molly doesn't have a nasty bone in her body. She teaches her riders confidence as they are allowed to progress on her, knowing that she won't take a stop out of place. Molly not only thrives as a therapeutic riding horse, she loves her job and shows all the instructors at SARI how much she truly love it. She is the type of horse every instructor dreams to teach on.
Photo: SARI