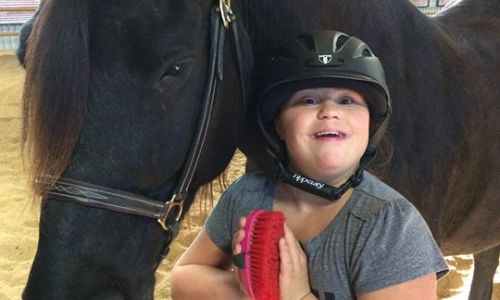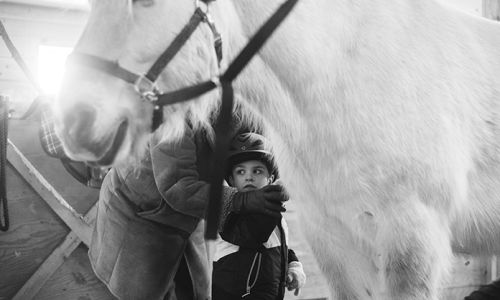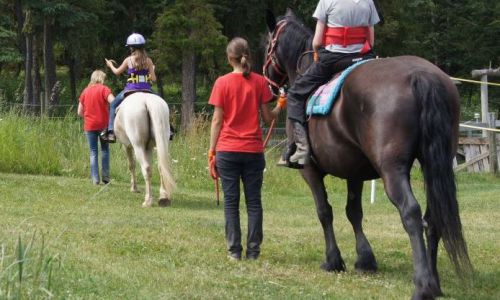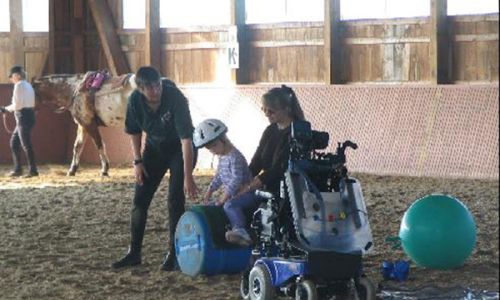 CTRSI - CanTRA Senior Instructor (formerly CTRI)
This level is certified to teach a maximum of four students at a time, giving safe and enjoyable basic riding instruction to children and adults with disabilities. The CTRSI plans the program with specialists such as therapists or educators, trains volunteers and organizes additional volunteer training, trains others to become instructors, mentors and give direction to CTRBI's CTRII's and is responsible for the selection and schooling of therapy horses.

The recommended pathway for certification is progressive through each certification level, starting with the Basic Instructor. (Please review the skills and knowledge required for the CTRBI and CTRII on the previous pages). It is strongly recommended tht each candidate progress from the Basic Instructor to the Intermediate Instructor to Senior Instructor. In this way a, thorough knowledge base is established as the candidate advances through the levels (i.e. Basic and Intermediate Instructor) and the CanTRA Senior Instructor comes to Therapeutic Riding through the Equine Canada coaching stream as an Instructor of Beginners, Competition Coach or EC Western Level 1 Coach or higher. Their equestrian skills and experience have complied with Equine Canada's coaching standards int the areas of Stable Management, Horsemanship and Teaching of able-bodied riders. Therefore, candidates for the CTRSI will be focused on the specialization of skills, knowledge of disabilities and experience required in teaching riders with disabilities.
CanTRA Senior Instructor curriculum outline
Stable Management - assessing suitability of horses, horse and rider suitability, supervise condition & schooling of horses.

Volunteer Training - overseeing volunteer orientation and ongoing training and safety

Mounting/Dismounting - all types of mounts including lift/no lift for non-weight bearing riders

Teaching - 1:4 lesson plans and ability to show progression of learning outcomes, advanced knowledge of disabilities, problem solving, special equipment, Log Book and 10 week Student Report

Safety - responsible for all safety protocols and adherence to National Safety Standards for CanTRA centres
How do I bypass the Basic Instructor and the Intermediate Instructor?
You have an option to bypass the first two levels and start at the third level. Although we strongly recommend a progressive pathway through the levels to ensure a strong knowledge base and successful outcome, there will be some candidates who come to therapeutic riding with strong equestrian teaching skills and experience. It will be the responsibility of each candidate to assess their own teaching experience, skills and future goals to determine the appropriate level they wish to pursue. Should a candidate wish to start at the Senior Instructor Level, it will be necessary to complete all the prerequisites of the Basic and Intermediate Instructor levels before starting on the Senior Instructor Level. These prerequisites include:
Complete 100 hours experience with a CanTRA therapeutic riding program.
Complete Home Study for CTRBI with review.
Complete written exam for Basic and Intermediate instructor levels with a pass mark of 75%.
Sign a waiver stipulating that the candidate a has decided to bypass the previous levels and that they accept responsibility for the outcome of the exam. Mentor is required to co-sign that, in their opinion the candidate is competent to bypass the Basic and Intermediate Instructor and achieved the requirements of the Senior Instructor.
Cost of Tuition
CanTRA's tuition system applies to all levels of certification. This allows candidates to budget for the cost of certification with specific timelines to submit prerequisites and other required components. In this way CanTRA Head Office can track candidates and plan technical evaluations and examinations throughout the country.

Those candidates with CTRII take an average of two years to complete the CTRSI process.

Total cost of the CanTRA Senior Instructor is $1025.00 this can be paid in full OR with a 205.00 deposit and the balance paid quarterly over one year. This tuition includes your CanTRA membership for 2 years the two part Home Study (Teaching Principle and Movement and Disability) CanTRA Instructor Manual the Technical Evaluation, Exam, CanTRA Senior Instructor certificate and name badge.
Requirements of CanTRA Senior Instructor upon application:
Certification prerequisites
Be a minimum of 25 years of age during the certification process
Be a full CanTRA individual member
Proof of Standard First Aid & CPR: St. John Ambulance or Ski Patrol Course, Red Cross or equivalent.
Submit copy of certification with Equine Canada as an Instructor of Beginners, Competition Coach, Western Coach One, or higher. CanTRA will also accept equivalent certfications from other internationally accepted programs for this pre-requisite.
Before applying for the Technical Evaluation
Submit completed CTRSI Home Study.
Complete a minimum of 20 hours with a CanTRA qualified mentor.
Submit a draft Log Book.
Submit a 10 week Student Report
Please Note:
All requirements must be complete and submitted prior to applying for the Technical Evaluation, no exceptions will be made.
Before applying for the Exam
Review recommendations of the CanTRA Course Conductors from the Technical Evaluation and ensure that candidate has addressed all concerns/areas needing improvement.
Submit Final Log Book and 10 week Student Report., if not complete.
Submit written exam under the supervision of an approved invigilator a minimum of 3 weeks prior to scheduled exam date.
Please Note:
All prerequisites must be complete and submitted prior to applying for the Exam no exceptions will be given.
How do I find a CanTRA Centre?
Check the centre map on our website for a full list of member centres in your area.
What if I need help?
You will need a Mentor to guide you through the process of certification. Your mentor should be someone who has attained a level above that of a Senior Instructor (formerly CTRSI). A mentor will assess your current knowledge and skills. If you mentor is associated with a CanTRA member centre in your area, they can help to arrange the required 100 hours of teaching experience working in a therapeutic program setting. Mentors help by observing and critiquing lessons, reviewing lesson plans and student reports, discussing short and long term goals and progression. Mentors also help to prepare candidates for their exam, as they have done this themselves at some point in time. If a CanTRA certified mentor is not available, you may be able to find a mentor in your area who is Equine Canada certified. They will be able to assist with much of the work associated with much of the work associated with basic riding skills, lesson format, teaching groups, progression etc. However, you will need to spend some time with a CanTRA certified mentor to cover those areas specific to therapeutic riding programs. In this case, you may contact a member centre and ask if you may spend some time there working with one of their instructor or you may contact and CanTRA certified mentor who will work with you by email and video. If you are in a remote area, strategies such as videos can be reviewed by an expert in another part of the country who can view a provide you with feedback and advise.

Hands-on experience will always be the best method for learning.

Remember our goal is to help you be successful
How do I get started?
Registration Form
To register, simply complete a Certification Registration Form and submit it with the required prerequisites and your deposit to the CanTRA office. Once registered, (we will send your instructor manual and Home study if you are bypassing) and you are on your way. If you have questions the CanTRA Head Office can assist in finding answers.

CanTRA 5420 Highway 6 N, Guelph, ON N1H 6J2 Phone 519-767-0700, Fax 519-767-0435 This email address is being protected from spambots. You need JavaScript enabled to view it.