2019 CanTRA Awards
The 2019 CanTRA Award winners have been selected.
We're honored to present the Outstanding Volunteer of the Year, Outstanding Instructor of the Year, Outstanding Administrator of the Year and Therapy Horse of the Year.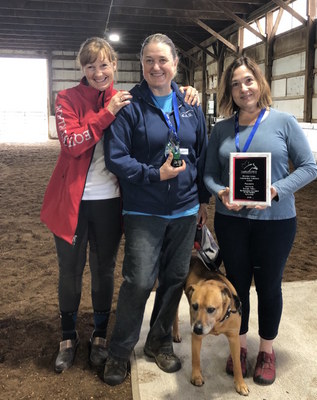 Rhonda Davies Award: Outstanding Volunteer
Sponsor: John and Donna Davies
Recipient: Susan Tilley - (TEAD) The Equestrian Association for the Disabled, Mount Hope, ON
What every therapeutic riding centre needs is a volunteer who loves helping riders and isn't afraid of getting their hands dirty. This describes Sue Tilley, a dedicated volunteer with The Equestrian Association for the Disabled (TEAD) for 12 years. Sue is know for her compassion and patience for every rider and horse she works with no matter what the situation is. Coming from a teaching background, Sue continuously offers encouraging words to empower riders to reach their goals. She has recently taken on responsibilities in the barn, cleaning out stalls, turnout, feeding and general horse care. As a certified equine massage therapist, Sue makes sure the herd at TEAD feels at ease and able to do their jobs. The barn cats are not neglected from her attention, as she provides them with cat food and treats! Thoroughly invesed in the TEAD program, Sue has donated generously to support the horses and facilities and regularly participates in fundraisers and promotional opportunities. Sue is a woman of many talents and dedicates herself entirely to what she takes on. This is inspired volunteerism at it's best!
Photo: Courtesy of TEAD
Pictured from left to right: Hilary Webb, Cantra Coach/Examiner, Sue Tilley, Sue Schramayr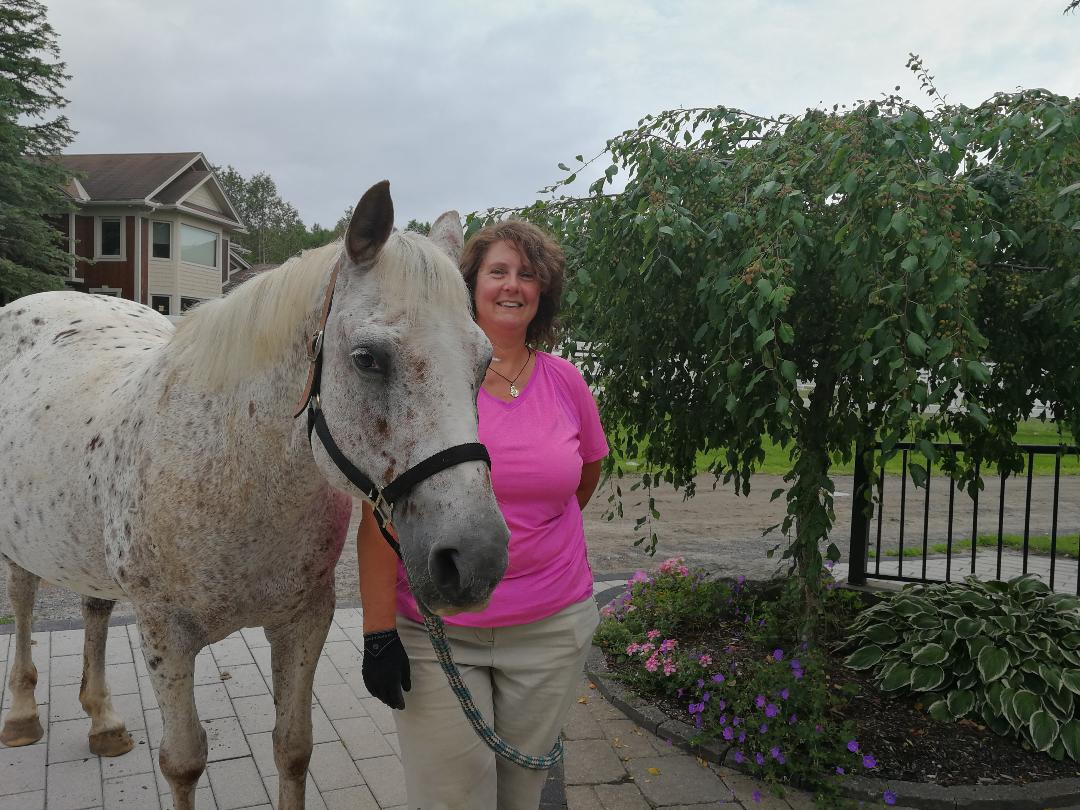 Andrea Gillies Award: Outstanding Instructor
Sponsor: Gay Wood
Recipient: Paul Bernard - (TROtt) Therapeutic Riding Association of Ottawa, Greely, ON
Paula Bernard began volunteering at the Therapeutic Riding Association of Ottawa (TROtt) in its early years and became an Instructor in 1999. She has served in this capacity, as well as many others, for twenty years. This award is a celebration of Paula's devotion to the many riders whose lives she has touched. It is for all of the instructors in training she has mentored. It reaches to the volunteers and the parents she has supported and the therapy horses she has selected and trained. She makes time to collaborate with numerous therapist, teachers and parent to ensure the evolving needs of the riders are addressed. Paula also builds into her volunteer teams, making sure they are made aware of particular adaptations; this gives them the confidence to safely and effectively fulfill their role as an integral part of the therapeutic team. She has a special bond with each of her riders and a soulful quality in her eyes and smile that brings out their best efforts. As a CanTRA Coach and Examiner, Paula's exemplary skills and focus is unwavering and always for the benefit of the riders. Paula gives; she gives of her time, her knowledge, her humour, her patience, her dedication and her love for therapeutic riding.
Photo: Courtesty of TROtt
Pictured from left to right: Trin and Paula Bernard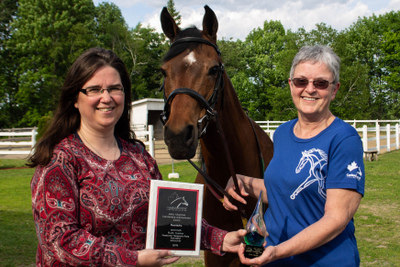 Jetty Chapman Award: Outstanding Administrator
Sponsor: Christine and Oren Birch
Recipient: Ruth Carter - (FTRA) Fredericton Therapeutic Riding Associaton, Fredericton, NB
The Fredericton Therapeutic Riding Association (FTRA) has seen a great many changes over the years, but the one constant has been Ruth Carter. Ruth has been involved with the FTRA for over 35 years and during that time, Ruth has served in virtually every capacity of the organization. Starting as FTRA's only instructor, she began to mentor candidates to expand the program, as well as other programs around New Brunswick. Sharing her knowledge and experience, Ruth has provied valuable guidance to other therapeutic associations in Atlantic Canada.
In recent years, she has been instrumental in grant writing and securing funding for FTRA, as well as recruiting board members to ensure the continuance of the program and its mission. Her devotion, giving countless hours to FTRA, and never seeking any reward, reveals her focus. As one of her peers said "Everything she does is for the joy she see on the faces of many riders benefiting from these programs".
Photo courtesy of FTRA
Pictured from left to right: Jennifer Sutherland Green CTRII, President of FTRA and Ruth Carter, CTRII,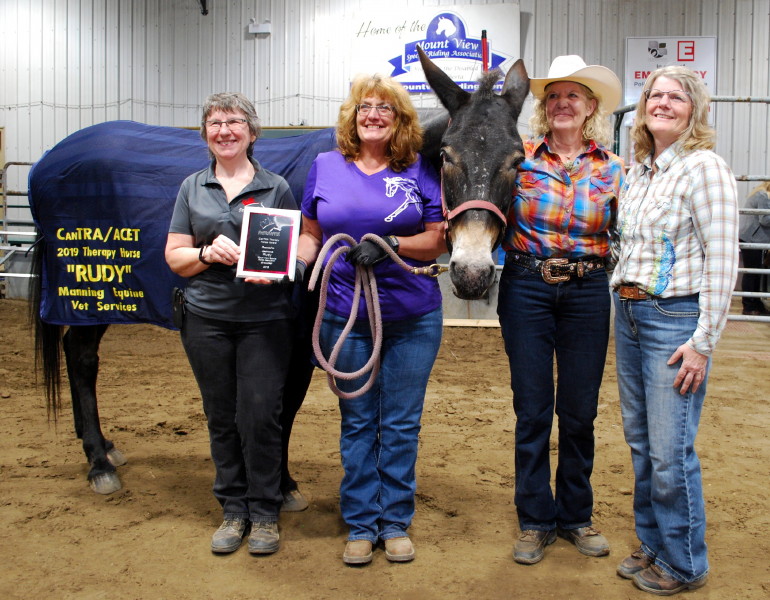 CanTRA Therapy Horse
Sponsor: Manning Equine Vet Services
Recipient: Rudy - (MVSRA) Mount View Special Riding Association, Olds, AB
Since 2005, 29-year-old Rudy has been an indispensable team member of the Mount View Special Riding Association (MVSRA). He is a handsome black (now greying) 15.32 HH gentleman with soft eyes, white flecks on his forehead, and the typical tan muzzle of a mule. Yes, Rudy is a mule. A special equid who is patient and reliable with every rider and driver he is entrusted with. Rudy, truly, is the right solution to a variety of needs; he carries both Western and English riders, standing solidly for mounting and slowing when a rider starts to lose balance. The best choice for horsemanship practices, Rudy doesn't mind having labels stuck all over him to help teach the parts of his body. He drives both the single and double harness and pulls MVSRA's specially designed cart for wheelchairs. The horse in the MVSRA's program are all aware of his mule uniqueness and have become better for it! Participants and stablemates are enterained with the occasional braying. Thank you, gentle soul, for your extraordinary service in therapetuic riding and equine-assisted activities.
Photo: Courtesty of MVSRA
Pictured from Left to Right: Diane Luxen CTRBI, Linda Leggett, rudy's owner & MVSRA volunteer, Brenda Spanier CTRSI, CanTRA zone rep, Shelene Williams CTRII & CanTRA Board member.