2018 CanTRA Awards
The 2018 CanTRA Award winners have been selected.
We're honored to present the Outstanding Volunteer of the Year, Outstanding Instructor of the Year, Outstanding Administrator of the Year and Therapy Horse of the Year.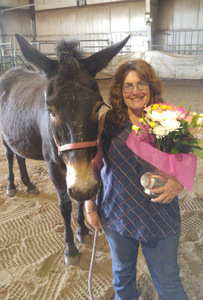 Rhonda Davies Award: Outstanding Volunteer
Sponsor: John and Donna Davies
Recipient: Linda Leggette - (MVSRA) Mount View Special Riding Association, Olds, AB
Linda has volunteered with MVSRA for 17 years. She hauls some of her trained horses (and a mule!) to the program, all of which have worked out well. Her careful observations of the lessons lead to a better experience for riders, horses and volunteers. Through her connections in the wider community, she actively promotes MVTRS, resulting in more volunteers, horses and donations. She also helps organize fundraising events, and with her graphic design background has upgraded our brochure. Linda says "I get so much out of the time I spend with these riders. I can't imagine anything that could be more important than this, or more fulfilling.
Photo: Courtesy of MVSRA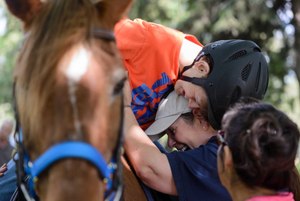 Andrea Gillies Award: Outstanding Instructor
Sponsor: Gay Wood
Recipient: Jo-Anne Billington - Little Bits Therapeutic Riding Association, Edmonton, AB
Thrity years ago, Jo-Anne started volunteering with Little Bits, and soon qualified as CanTRA Basic Instructor (CTRBI). Her trained eye bring success to each rider with her upbeat encouragement and insightful methods of achieving positive results, while ensuring a safe, progressive and fun ride. The miles she has walked, in the arena and on the trails! Jo-Anne is a team player, both in the barn and the office. Her role in fundraising events helps to ensure their success. She will turn her hand to anything, cleaning stalls, organizing rider files, fundraising. She is one in a million!
Photo: Courtesty of Little Bits Riding Association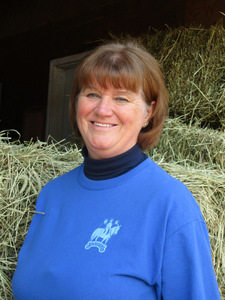 Jetty Chapman Award: Outstanding Administrator
Sponsor: Christine and Oren Birch
Recipient: Janice Cole - The Joyriders Therapeutic Riding Associaton, Hunter River, PE
Janice has been a board member, president, and lesson volunteer. In these roles she has domonstrated outstanding skills, especially as an administrator. She has been instrumental in raising thousands of dollars from granting agencies, businesses, and fundraising events. Her outreach work has raised our profile in the community. Janice's impact has been remarkable in every area. Her leadership has strengthened the board, although she would say this is a team effort. But teams have to be led by example, motivated, empowered and recognized. She has done and exemplary job.
Photo courtesy of The Joyriders TRA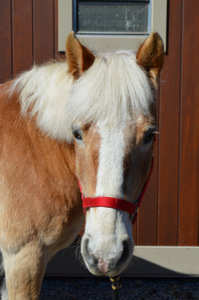 CanTRA Therapy Horse
Sponsor: Manning Equine Vet Services
Recipient: Pebbles - (TROtt) Therapeutic Riding Association of Ottawa-Carleton, Greely, ON
Pebbles arrived in 1998 at age seven and took to her therapy horse responsibilites right away. Twenty years later, she is still a barn favourite. Her levelheaded temperament makes her ideal for therapy work. She is the go to horse for rider assessments, and doesn't flinch when riders become upset or become unbalanced. She is incredibly patient, making her ideal for mounting our wheelchair riders, and does not react to noises like thunder. The mother of one young rider says, "I think the most notable benefit to Hunter is that she is steady and calm. She walks at a moderate pace and never varies. Her balanced energy and peacefulness is is imparted into Hunter's body through the rhythm of her gait. He really enjoys his time working with Pebbles."
Photo: Courtesty of TROtt